Our Beresford Family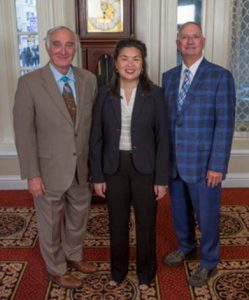 Not only are the Beresford hotels among the only family-operated hotels remaining in Union Square, the staff is a family all its own, with several 30+ year employees on staff, and even a 40-year marriage between two staff members who met on the job.

The diverse staff is comprised of Bay Area locals who know the city and, between them, speak nearly all major world languages. They are happy to help you navigate the city and find the best restaurants and attractions, no matter where you're coming from or what brings you to the City by the Bay.
The Beresford Family shares…
"Beresford Arms ấm cúng và là nơi hoàn hảo cho gia đình ở lại khi vắng nhà!"
-Quyen V., 21 Years with Beresford, Company Controller
---
"À l'hôtel Beresford, il est détendu et familial."
-Bohui S., 8 Years with Beresford, Accounting
---
"Es un lugar Bueno para trabajar porque uno puede conocer gente divertida de todos lados del mundo."
-Juan, 2 Years with Beresford, Guest Relations
---
"Gusto kongmagtrabaho sa Beresford Arms dahil nasa sentro ito ng San Francicokung saan napapalibutan nang iba't ibang klase ng pang publikong transportagon at pamilihan."
-Lora, 2 Years with Beresford, Front Desk
---
"我非常享受和每一位客人交流的过程,了解他们的喜好和需求,然后给予他们在当地游玩的建议,特别是那些非常值得去,却没有在杂志,书本和网络上所涉及到的。"
-Tricia L., 24 years with Beresford, General Manager
---
"酒店的地理位置十分理想,给酒店客人推荐我喜欢的餐厅是一件让人愉悦的事情,这也使得我的工作充满了意义。"
-Backy, 2 years with Beresford, Front Desk